Blavatsky Calling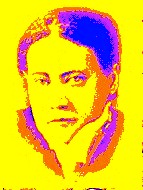 And I don't wanna shout!
___________________
The Voice of the Silence
Website
The Voice of the Silence by H P Blavatsky
An Eastern Spiritual Workout for the Western Mind
_______________
Explanatory Note 26
Keshara or "sky-walker" or "goer." As explained in the sixth Adhyaya of that king of mystic works the Dhyaneswari — the body of the Yogi becomes as one formed of the wind; as "a cloud from which limbs have sprouted out," after which — "he (the Yogi) beholds the things beyond the seas and stars; he hears the language of the Devas and comprehends it, and perceives what is passing in the mind of the ant."
_____________________
Blavatsky Calling
with more Theosophy links
The Cardiff Theosophical Society Website
The National Wales Theosophy Website
Theosophy Cardiff's Instant Guide
Independent Theosophy Blog
One liners and quick explanations
About aspects of Theosophy
H P Blavatsky is usually the only
Theosophist that most people have ever
heard of. Let's put that right
Camberley, Surrey, England, GU15 2LF
Concerns about the fate of animals as this 
spiritual retreat & sanctuary for wildlife 
Her Teachers Morya & Koot Hoomi
The Theosophist who believed the world
was not ready for the Secret Doctrine
An Independent Theosophical Republic
Links to Free Online Theosophy 
Study Resources; Courses, Writings, 
Theosophical Movement in Wales
No Aardvarks were harmed in the
The Spiritual Home of Urban Theosophy
The Earth Base for Evolutionary Theosophy
_____________________
Tekels Park to be Sold to a Developer
Concerns are raised about the fate of the wildlife as
The Spiritual Retreat, Tekels Park in Camberley,
Surrey, England is to be sold to a developer
Many feel that the sale of a sanctuary for 
wildlife to a developer can only mean disaster
Confusion as the Theoversity moves out of 
Tekels Park to Southampton, Glastonbury & 
Chorley in Lancashire while the leadership claim
that the Theosophical Society will carry on using 
Tekels Park despite its sale to a developer
Theosophy talks of a compassionate attitude
to animals and the sale of the Tekels Park
sanctuary for wildlife to a developer has
Future of Tekels Park Badgers in Doubt
Tekels Park & the Loch Ness Monster
A Satirical view of the sale of Tekels Park
in Camberley, Surrey to a developer
The Toff's Guide to the Sale of Tekels Park
What the men in top hats have to say about the
sale of Tekels Park to a developer. It doesn't
require a Diploma in Finance or indeed a
Diploma in Anything to realize that this is a
bad time economically to sell Tekels Park
Party On! Tekels Park Theosophy NOT
St Francis Church at Tekels Park
____________________
Classic Introductory Theosophy Text
A Text Book of Theosophy By C W Leadbeater
What Theosophy Is  From the Absolute to Man
The Formation of a Solar System  The Evolution of Life
The Constitution of Man  After Death  Reincarnation
The Purpose of Life  The Planetary Chains
The Result of Theosophical Study
An Outstanding Introduction to Theosophy
By a student of Katherine Tingley
Body, Soul and Spirit  Reincarnation  Karma
Try these if you are looking for a
local Theosophy Group or Centre
UK Listing of Theosophical Groups