Blavatsky Calling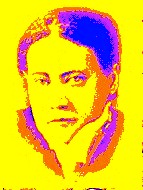 And I don't wanna shout!
___________________
The Voice of the Silence
Website
The Voice of the Silence by H P Blavatsky
An Eastern Spiritual Workout for the Western Mind
_______________
Explanatory Note 43
Dhyana is the last stage before the final on this Earth, unless one becomes a full MAHATMA. As said already, in this state the Raj Yogi is yet spiritually conscious of Self, and the working of his higher principles. One step more, and he will be on the plane beyond the Seventh, the fourth according to some Schools. These, after the practice of Pratyehara — a preliminary training, in order to control one's mind and thoughts — count Dhasena, Dhyana and Samadhi and embrace the three under the generic name of SANNYAMA.
_____________________
Blavatsky Calling
with more Theosophy links
Independent Theosophical Blog
One liners and quick explanations
About aspects of Theosophy
H P Blavatsky is usually the only
Theosophist that most people have ever
heard of. Let's put that right
An Independent Theosophical Republic
Links to Free Online Theosophy 
Study Resources; Courses, Writings, 
Try these if you are looking for a local group
UK Listing of Theosophical Groups