Blavatsky Calling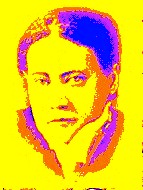 And I donít wanna shout!
___________________
The Voice of the Silence
Website
The Voice of the Silence by H P Blavatsky
An Eastern Spiritual Workout for the Western Mind
_______________
Explanatory Note 34
This "Path" is mentioned in all the Mystic Works. As Krishna says in the Dhyaneswari: "When this Path is beheld . . . whether one sets out to the bloom of the east or to the chambers of the west, without moving, O holder of the bow, is the travelling in this road. In this path, to whatever place one would go, that place one's own self becomes." "Thou art the Path" is said to the Adept Guru, and by the latter to the disciple, after initiation. "I am the way and the Path," says another MASTER.
†Voice of the Silence Homepage
_____________________
Blavatsky Calling
with more Theosophy links
†††††††††††††††††††††††††††††††††††††††††††††
Independent Theosophical Blog
One liners and quick explanations
About aspects of Theosophy
H P Blavatsky is usually the only
Theosophist that most people have ever
heard of. Letís put that right
An Independent Theosophical Republic
Links to Free Online Theosophy†
Study Resources; Courses, Writings,†
Try these if you are looking for a local group
UK Listing of Theosophical Groups