Blavatsky Calling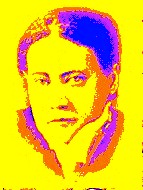 And I donít wanna shout!
___________________
The Voice of the Silence
Website
The Voice of the Silence by H P Blavatsky
An Eastern Spiritual Workout for the Western Mind
_______________
Explanatory Note 33
Kundalini, the "Serpent Power" or mystic fire. Kundalini is called the "Serpentine" or the annular power on account on its spiral-like working or progress in the body of the ascetic developing the power in himself. It is an electric fiery occult or Fohatic power, the great pristine force, which underlies all organic and inorganic matter.
†Voice of the Silence Homepage
_____________________
Blavatsky Calling
with more Theosophy links
†††††††††††††††††††††††††††††††††††††††††††††
Independent Theosophical Blog
One liners and quick explanations
About aspects of Theosophy
H P Blavatsky is usually the only
Theosophist that most people have ever
heard of. Letís put that right
An Independent Theosophical Republic
Links to Free Online Theosophy†
Study Resources; Courses, Writings,†
Try these if you are looking for a local group
UK Listing of Theosophical Groups